NetSuite Modules Guide: Key Modules, Pricing – FAQs
Frequently Asked Questions
Our Frequently Asked Questions allow administrators, companies, and organizations to increase investment return on NetSuite accounts. Netsuite Implementations, Administration, Configuration, and Customizations, including Repairs – standard specifications, Maintainance Intervals, Technical & services bulletins, and Project Estimator procedures.
Learn More
FAQ: NetSuite Modules List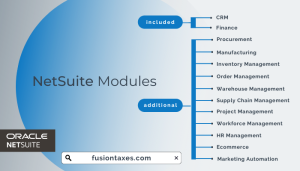 NetSuite Financial Management Modules
NetSuite Advanced Financials.
NetSuite SuiteBilling. 
NetSuite Revenue Management 
NetSuite AP Automation. 
NetSuite Planning & Budgeting.
NetSuite Multi-Book Accounting 
NetSuite OneWorld.
NetSuite Dunning Letters.
NetSuite Fixed Assets Management 
NetSuite Electronic Bank Payments.
NetSuite Customer Relationship Management Module
NetSuite Customer Relationship Management Module
NetSuite CRM.
NetSuite Contract Renewals.
NetSuite Incentive Compensation.
NetSuite CPQ.
NetSuite Inventory and Order Management Modules
NetSuite Advanced Inventory Management.NetSuite Advanced Order Management.
NetSuite Commerce Modules
NetSuite SuiteCommerce
NetSuite SuiteCommerce Advanced eCommerce.
NetSuite SuiteCommerce InStore.
NetSuite SuiteCommerce MyAccount.
NetSuite Connector.
NetSuite Human Resources Modules
NetSuite Payroll.
NetSuite SuitePeople HR.
NetSuite SuitePeople Performance Management.
NetSuite Professional Services Automation Modules
NetSuite SuiteProjects .
NetSuite Project Management.
NetSuite OpenAir.
NetSuite Supply Chain Modules
NetSuite Procurement.
NetSuite Warehouse Management System (WMS).
NetSuite Demand Planning.
NetSuite Quality Management.
NetSuite Work in Process (WIP) and Routings.
NetSuite Work Orders and Assemblies.
NetSuite Advanced Manufacturing.
FAQ: Choose a from a module category
See the following questions and answers to understand the implications of the segregation of Customer Center roles from other roles.
NetSuite CRM & ERP
Talk to our team of experts
We can help your choose the right modules and optimize NetSuite for your business needs.
Contact Us
NetSuite CRM & ERP
NetSuite CRM & ERP is the base suite that delivers a real-time 360-degree view of your customer and provides a seamless flow of information across the entire customer lifecycle from lead through to opportunity, sales order, fulfillment, up-sell, cross-sell, support, invoicing, inventory management and full accounting. With the comprehensive financial management capabilities required to grow a changing, complex business, NetSuite takes your business beyond traditional accounting software by streamlining operations across your entire organization and providing you with the real-time visibility you need to make better faster decisions.
Features
Financial Management
Supply Chain and Inventory Management
Procurement
Order and Billing Management
Warehouse and Fulfillment
Sales Force Automation
Customer Service Management
Marketing Automation
Real-Time Analytics
NetSuite OneWorld Module
NetSuite OneWorld is an optional module that addresses the complex multinational and multi-company needs of mid-market organizations. Enables businesses to adjust for currency, taxation, and legal compliance differences at the local level, with regional and global business consolidation and roll-up.
Features
Multi-company / Multi-org support in a single NetSuite Account
Segregated ERP and G/L for each Subsidiary
Global CRM and Sales Support
Multiple transactions and consolidation currencies
Local functional currency reporting for each Subsidiary
Real-time consolidated financial reporting for multiple currencies
Multi-country regulatory tax and reporting support
NetSuite Advance Inventory Module
NetSuite Advanced Inventory is an optional module that provides a broad array of capabilities to optimize inventory availability and levels. This enables businesses to keep inventory costs low while meeting customers' delivery expectations.
Features
Matrix Items
Serialized Inventory
Bar Coding: Items and Transactions
Lot Management
Pick, Pack and Ship
Automated Re-order Point / Lead Time Calculations
Warranty Claims
NetSuite Advance Procurement Module
NetSuite Advanced Procurement is an optional module that helps companies improve the procurement process by exerting tighter control over spending, simplifying requests for goods and services, and rendering real-time visibility end-to-end.
Features
Helps manage supplier relationships, source-to-pay processes and related procurement spend
Creates requisitions transaction allowing a buyer to spread a requisition's items across multiple vendor POs, and/or consolidate multiple requisitions' items into a single vendor PO.
New purchase contracts enable companies to make purchases with negotiated pricing Lot Management
Blanket POs allow companies to purchase in large volumes and spread the delivery of the items or expenses over a time horizon using pre-specified schedules.
NetSuite Demand Planning is an optional module that enables purchasing and inventory managers to determine the demand projection of items in the coming months based on historical data and trends or sales forecast information. It delivers the insights that managers need to plan inventory accordingly and create purchase and work orders to meet anticipated demand.
Note: Advanced Inventory module is required for Demand Planning
Features
Demand projection of items
Advanced Inventory Planning
Automated Purchase Orders and/or Work Orders
NetSuite Work Orders and Assemblies is an optional module that provides capabilities such as the assembly of products, creating inventory products from raw materials, assembling inventory kits, calculating assembly costs, and compiling materials lists.
Features
Assemblies with Bill of Materials
Multi-level Sub-components
Work Orders for Production Orders and Special Order Assembly Build
NetSuite was the first to provide an eCommerce solution that unified eCommerce with your back office systems. Today, SuiteCommerce powers thousands of online businesses helping them grow and expand to new heights. Backed by professional services, an extensive partner ecosystem, and dedicated support, SuiteCommerce provides your business with everything it needs to succeed.
Features
Advanced Site Customization
Dynamic, Database-Driven Hosted Site
Faceted Navigation
Dynamic merchandising
External Store Integration
Referrer Report
Click Activity Reports and more
As an optional add-on Module, with NetSuite Advanced Financials, finance departments can further automate billing processes and eliminate the manual work typically associated with billing customers. It enables the creation of highly customized billing schedules and templates and automates the creation of invoices based on different types of orders. It even provides milestone billing schedules that ensure work is billed as it is completed according to a service contract.
Features
Advanced Budgeting
Expense Allocations
Amortization Schedules
Advanced Billing Schedules
Milestone Billing (when used with Advanced Project Accounting)
Statistical Accounting
Allocation Enhancement
NetSuite Advances Software Modules is an optional module that helps software and internet companies track issues and allow customers to download software on the portal.
Features
Issue Lifecycle & Status Transition Engine
Closed-Loop Case/Issue Linking
Self-Service Issue Tracking for Customers
Advanced Billing Schedules
Electronic File/Software Distribution for NetSuite
Self-Service "My Downloads" Center
Recurring revenue from ongoing licenses, support, and maintenance contracts is the lifeblood of software companies. Managing and optimizing these recurring revenue streams is critical to the long-term health and success of software companies, including both cloud computing vendors and traditional software providers. This is an optional module.
Features
Automated Contract Renewals
Multiple Contract Support
Upsell / Downsell Management
Sales through multiple channels
Uplift Management
NetSuite Fixed Asset Management is an optional module that enables you to maintain and control the complete asset lifecycle from creation to depreciation, revaluation, and retirement. Its detailed asset management functionality supports multiple depreciation calculation types, handling of depreciating and non-depreciating assets, maintenance schedules, leases, and insurance. Tight integration with NetSuite Financials creates accounting entries and fixed assets from purchases to help ensure that no equipment slips through the cracks.
Features
Acquire, Depreciate, Dispose and Revalue assets
Depreciation Management
Asset Process Accounting Automation
Real-Time Asset Reporting
Up to 500,000 assets
NetSuite's Incentive Management is an optional module that allows businesses to design, track and pay sales commission plans. NetSuite provides an easy-to-use solution to address the challenges of creating and maintaining complex multi-tiered commission plans, including managing and calculating sales compensation based on criteria such as quota, quantity sold, service item, product pro stability and even one-time "spiffs." With NetSuite, sales teams get a clear view of their incentives through automated commission reporting, ensuring that sales reps understand their incentives and are aligned with business goals.
Features
Commission Schedules based on products, percentage attainment, thresholds, and dates
Commission Plans with multiple Commission Schedules
Automated management of Special Incentives (spiffs)
Roll Up Commissions Plans with Manager incentives
Executive Commission Plan management
Process and pay Commissions (U.S. version & NetSuite Payroll required)
Alt Sales Amount (ASA)
NetSuite's Project Costing is an optional module that provides visibility into project costs and cost management efficiency, enabling greater accuracy and accountability. Its robust cost management solution spans the planning cycle, from estimating to budgeting and forecasting, through all stages of project execution and posting to General Ledger.
Features
Project Costing
Project Budgeting
Project Profitability Report
NetSuite WIP and Routings help in establishing realistic volume and cost targets and tracking performance against them. It also enables root causes to be identified and researched in instances where these targets are missed. This is an optional module.
Features
Define work centers
Define routings with setup times and run rates
Track manufacturing activities (including labor and machine time) by the sequence of operations
Track labor, machine, and material cost accumulated in work in the process
Record labor and machine direct and overhead costs during operation completion
Work Orders Assemblies and Advanced Inventory modules are required
NetSuite Premier Payroll Service is the complete, full-service solution for managing your payroll. We do all the hard work for you, including handling all filings and deposits for federal, state, and local jurisdictions. The NetSuite Premier Payroll Service minimizes payroll headaches, reduces tedious paperwork, and gives you peace of mind with our "No Penalties Guarantee." You'll never need to prepare or mail payroll tax forms again. Managing payroll has never been so easy.
Features
Fully integrated with accounting, sales force automation
Supports all federal state and more than 10,000 local taxes
Monitors tax law changes and provides mid-year and annual updates
Provides required forms online, pre-filled with employee and employer data
Determines employee tax jurisdictions (even locals) based on employee and business addresses
Supports state tax reciprocity laws
Applies local tax-sharing rules
NetSuite meets the in-store retailing needs of multi-channel and multi-location retailers with a modern POS solution that enables retailers to streamline and accelerate the transaction process, while also delivering personalized customer service. With a 360-degree view of the customer and enterprise-wide, real-time inventory visibility, NetSuite provides the omnichannel capabilities required to easily deliver a uni ed shopping experience and build strong customer loyalty. This is an optional add-on module.
Features
Process retail transactions
Process returns and refunds
Manage cash-drawer
Manage multiple levels of security
Time clock tracking
Multiple Units of Measure
Serialized Inventory
Offline database to enable POS terminal to operate without continuous internet connectivity
Store data replication
Store level reporting
NetSuite's Project Management is an optional module that seamlessly integrates with the NetSuite accounting system. In addition to project management and time and expense tracking, you can create and issue invoices, and compare project performance to budgets and other metrics. NetSuite Project Management module manages revenue recognition, expenses, unbilled balances, and other project-related financials.
Features
Estimated Costing
Project Time Tracking
Project Task Management
Utilization & Backlog Reporting
Streamline Billing for Subscription-Based Business in one system. Companies are offering more and more services on a pay-as-you-go basis. While this enables companies to create service offerings that uniquely meet the requirements of their customers, it creates complex billing scenarios that companies must manage efficiently.
Features
Calculate a billing amount by querying of usage data
Or based on a minimum monthly contract value
Allows the use of filters when querying the usage data
Using a tiered pricing calculation
NetSuite Resource Management gives you visibility into all aspects of your project resource management needs, helping to increase overall resource utilization and manage and deploy resources based on employee skills, experience, and availability.
Features
Comprehensive Resource Management
Project Staffing
Resource Forecasting
Utilization Tracking
Revenue is recognized when it is realized or realizable, and when it has been earned. Whether a sales transaction consists of a single action, a series of actions across a period of time, or contains different types of deliverables in a bundle, NetSuite's award-winning financial management software enables accounting departments to comply with revenue recognition requirements in a productive manner so that your financial statements are always accurate. This is an optional add-on module.
Features
Revenue recognition schedules at the line item level
Reverse amortization for credits/refunds
Support for EITF 08-01 and EITF 09-03
Tracks and manages multiple Estimated Selling Prices by item
Enables automatic reallocation of order value to each line item
Revenue Recognition Dashboard Portlets with real-time analytics
Multi-currency and multi-subsidiary compatible
Includes up to 10,000 Revenue Recognition Schedules
NetSuite's Issue Management is an optional module that lets you track and manage defects or enhancement requests with a closed-loop corrective action process that is seamlessly integrated with support and service. Never let a product or customer issue slip through the cracks again. NetSuite Issue Management functionality and processes are seamlessly integrated with CRM and case management, providing incredible visibility across the organization as well as giving customers and vendors real-time insight via their self-service portals.
Features
Issue Lifecycle & Status Transition Engine
Closed-Loop Case/Issue Linking
Self-Service Issue Tracking for Customers
SuiteApp.com features hundreds of quality solutions, built using the SuiteCloud platform. Visit our SuiteApps to learn more through video, images, case studies, and data sheets. With our Built for NetSuite verification program, you have confidence in extending NetSuite with our SuiteApps.
Available for IOS and Android, the applications are designed with a mobile-first UI for key workflows, and support push notifications for time-sensitive actions, allowing users to streamline work on the go.
NetSuite integration may require the use of one or both NetSuite technologies: SuiteTalk Web Services and SuiteScript. SuiteTalk is a web service integration tool for joining NetSuite with third-party applications and systems. Coding can be done in SuiteTalk using any programming language.